Congratulations National Honor Society Inductees
The National Honor Society (NHS) is the nation's premier organization established to recognize outstanding high school students. More than just an honor roll, NHS serves to recognize those students who have demonstrated excellence in the areas of scholarship, leadership, service, and character. These characteristics have been associated with membership in the organization since its beginning in 1921.
Congratulations to the following 2017-2018 National Honor Society scholars who were inducted this morning!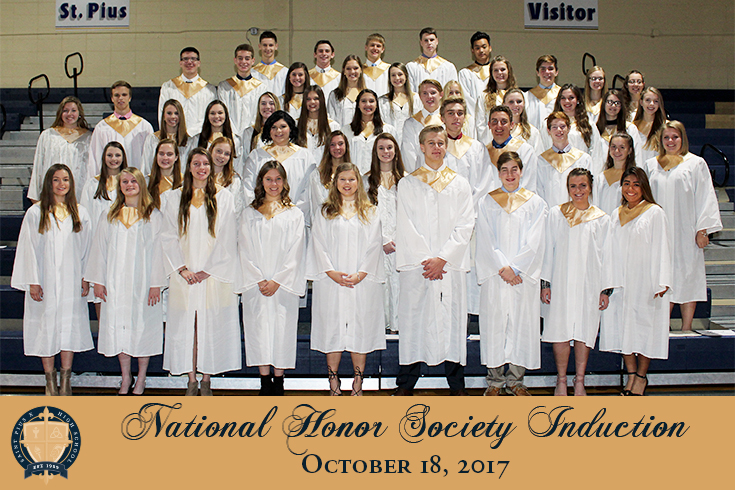 Induction of New Members:
Ryan Almany
Anna Armon
Samuel Bishop
Jax Byington
Alicia Carron
Miranda Childers
Brianna Colabianchi
Dalton Coomes
Alex Dinwiddie
Alexandria Dolde
Adam Eimer
Alexis Houston
Jeremy Isenman
Luke Klahs
Thomas Koch
Alexis Lowery
Timothy O'Connor
Erica Schrader
Jordan Schulze
Nick Sippel
Luke Swaller
Samuel Tucker
Nicole Wieland
Susana Wilson
Returning National Honor Society Members:
Emma Fehlker Campbell (Co-President)
Elise Greenland (Co-President)
Marissa Charleville
Kyla Greenlee
Mary Kate Halfmann
Aubrie Harris
Julia Houston
Jayne Macke
Morgan Martin
Katherine Mathis
Madalyn Michael
Jordanne Mickley
Carole Ann Miller
Allison Muenster
Alesha Pesold
Andrew Rocca
Jessica Romano
Elizabeth Schappe
April Sita
Grace Steed
Mallory Stoll
Jonathan Studyvin
Catherine Throm
Nicholas Whitesides