Welcome to SPX Faculty Focus!
Faculty Focus is a campaign that highlights the powerhouse of St. Pius X High School: our incredible Faculty! These men and women work hard every day to make sure our students are well-served — through the student experience to graduation and beyond. Faculty Focus is their time to shine! This year we will be highlighting "A Look Inside the Classroom".
Throughout the year we will feature our faculty members, who will share their experiences, philosophies, and a peek inside their classroom. Be sure to check back often to view the highlighted Faculty member.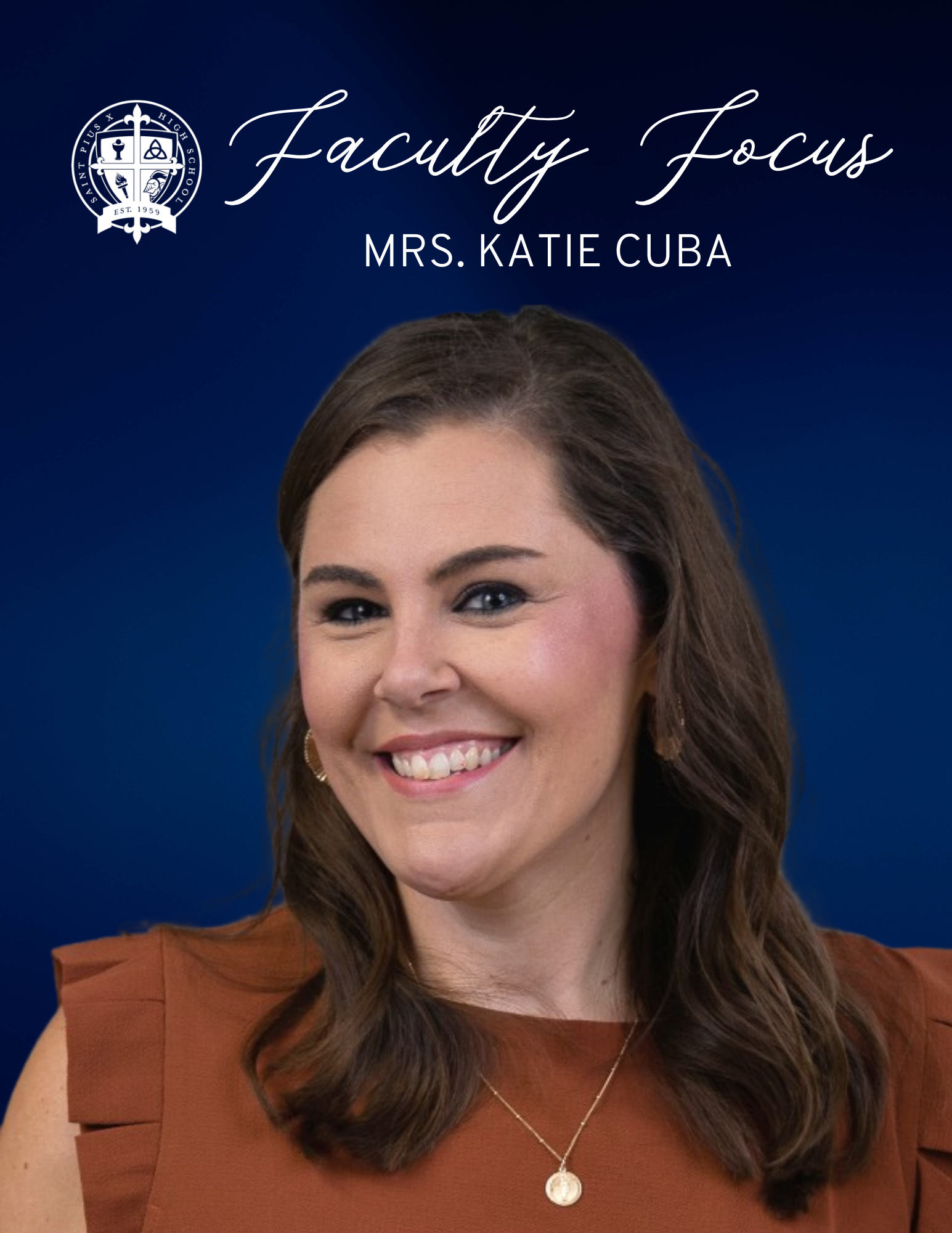 Mrs. Katie Cuba
St. Pius X alum​ni​? No, but I did attend Bishop DuBourg, another Catholic Archdiocesan High School
Years teaching/Years teaching at St. Pius X:
14 years total
1 year at Pius
Department: Student Services
Coaching or club sponsorship roles: N/A
Degree(s)/Degree-granting institution​: Bachelors in Special Education w/ Dual Certification
K - 12 Grade Special Education
1 - 6th General Education
​Academic area: Special Education; Cross Categorical Disabilities
When did you decide to become a teacher, and why did you choose this field?
From the time I was little, I played teacher every day. Teaching was the only thing I knew was certain. The thought of one day having my very own chalkboard was so exciting! (I was let down in my first year of teaching, they removed the chalkboard for a smartboard.) It was not until my first semester of college that I decided to go the route of special education. I saw the struggles my Aunt and Uncle had in finding the perfect Catholic school for my younger cousin, who has Down Syndrome and is Mild Mentally Impaired, otherwise known as MR. I knew then I wanted to have a degree that would not inhibit the ways of teaching and one day implement services to provide a catholic education for a more diverse community.
What personal strengths do you find especially helpful in your teaching?
I believe I am a compassionate person who undoubtedly wants to help everyone in any way possible. I am motivated in helping others, especially students, find success.
What do you like most about teaching as a career?
As an educator, having the opportunity to watch your students grow and mature right before you is incredible. It is an amazing accomplishment when you begin to notice the connection students are making with teachers, confidants, and you. When students begin to see the empathy, devotion, and compassion their teachers have for them, their determination to succeed becomes ten fold. It is truly an "aha moment."
​What is the greatest success you have had teaching?
Working with a class who had a majority of young men. It made for some challenging days when the class size was 18 boys to 10 girls. The greatest success I had was making sure I learned something new about each of those young men, it made our conversations relevant and they soon learned I was invested in them.
What is your philosophy of education?
My philosophy has and always will be that students learn best when they are fully engaged and invested in their education. How do we get students to feel this way - by getting to know each of them on a personal level. Find what drives them, motivates them, and encourages them. If they know their teacher wants them to succeed and finds ways to help them feel successful, then their mindset will focus more on the doing rather than settling.
What is your favorite thing about working at St. Pius X?​
The family style atmosphere.
What's the best piece of advice you've been given?
One of my first bosses, when I first started teaching, told me to keep every little positive note someone writes to you. While you have great days, you also have those that are challenging too. Unfortunately, the challenging days always seem to be the ones that stick with you, so it is important to know and remember your worth and all the great moments too.
Outside of work, what are you passionate about?
My boys, 100% my kids.
What did you want to b​e when you were growing up?
A teacher. Although, I love to sing. In fact, my great-grandma always told me I sounded just like Whitney Houston. :)