Welcome to Friday's Faculty Focus!

We are introducing a new campaign that highlights the powerhouse of St. Pius X High School: our incredible Faculty! These men and women work hard every day to make sure our students are well-served – through the student experience to graduation and beyond. Faculty Focus is their time to shine! On select Fridays, we will be highlighting a Faculty member and their subject area.
On Fridays, we will feature one of our faculty members, who will share their experiences, philosophies, and memories. Be sure to check back often to view the highlighted Faculty member's Q&As, photos and/or videos.
---
Greg Ferguson, Learning Consultant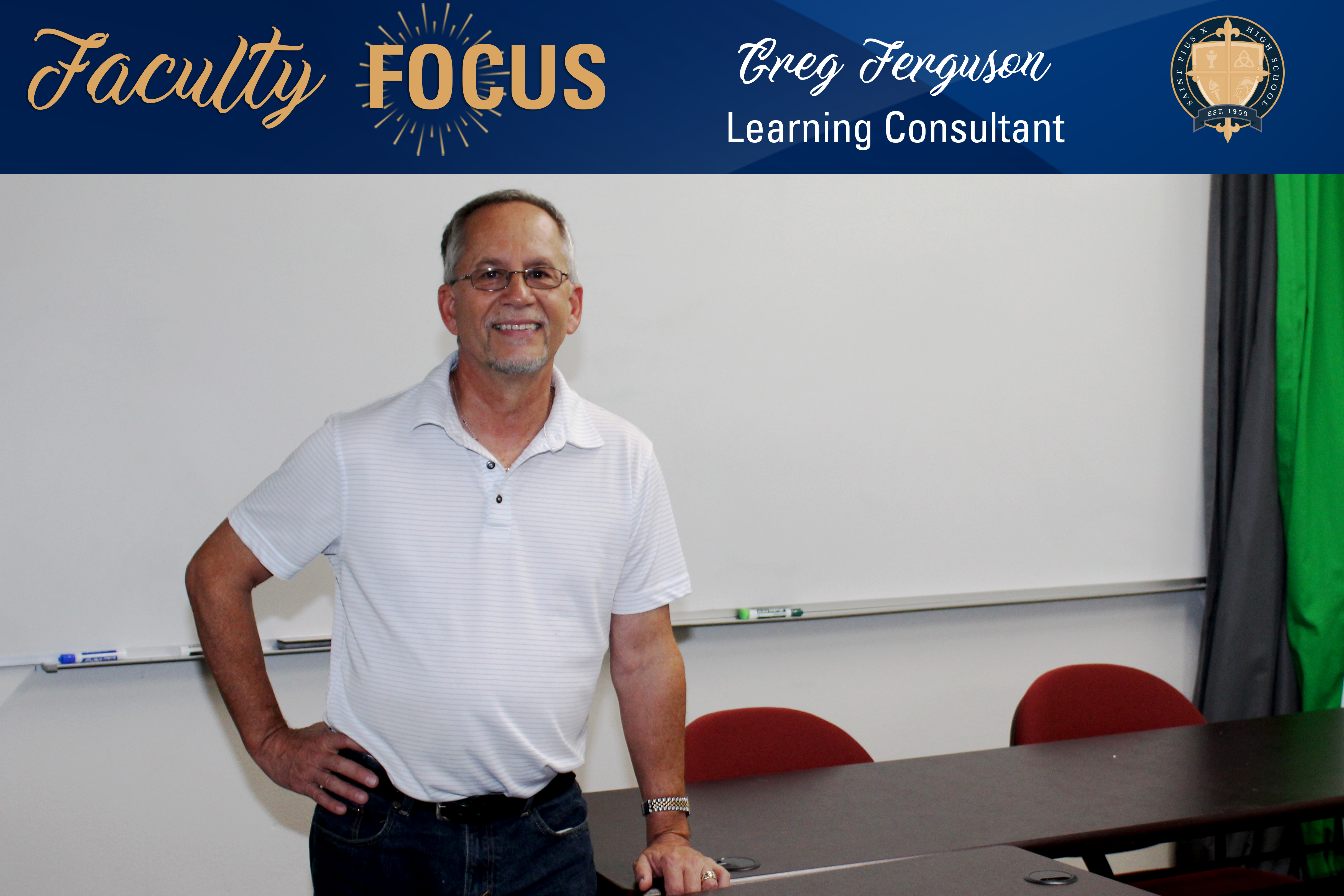 St. Pius X alum? I am not. However, my oldest brother was in the first graduating class of 1963. My daughter is an alum, class of 2009.
Years teaching/Years teaching at St. Pius X: I taught for 31 years. Learning consultant at St. Pius for 11 years.
Department: Learning consultant
Degree/Major/Academic area: Education – B.S./ Special/Regular Education. M.A. Educational Process with an emphasis in reading.
Degree(s)/Degree-granting Institution: B.S.–UMSL, M.A.–Maryville College
---
What do you like most about teaching as a career? Interaction with students. I had the pleasure of teaching for 31 years (retired for 7), and I believe we have the ability to make a lasting impact on the students we teach. I still hear from many of those who were in my classroom over the years.
What is your philosophy of education? I am not sure who is responsible for this quote, but it has been my philosophy of education since the beginning of my career: "Tell me and I may forget, Show me and I may remember. Involve me and I WILL understand." I strongly believe in a hands-on approach to education.
What is the greatest success you have had in teaching? The greatest success came as a result of being a teacher. My wife and I were blessed to adopt a former student of mine 15 years ago. She is currently a St. Pius X alum and the mother of two of my fabulous grandchildren.
Outside of work, what are you passionate about? First and foremost I am the grandfather of four amazing boys that I love spending time with. In addition, I have two hobbies that I love... cooking and writing.