Featured Alumni
Ryan Loveless '19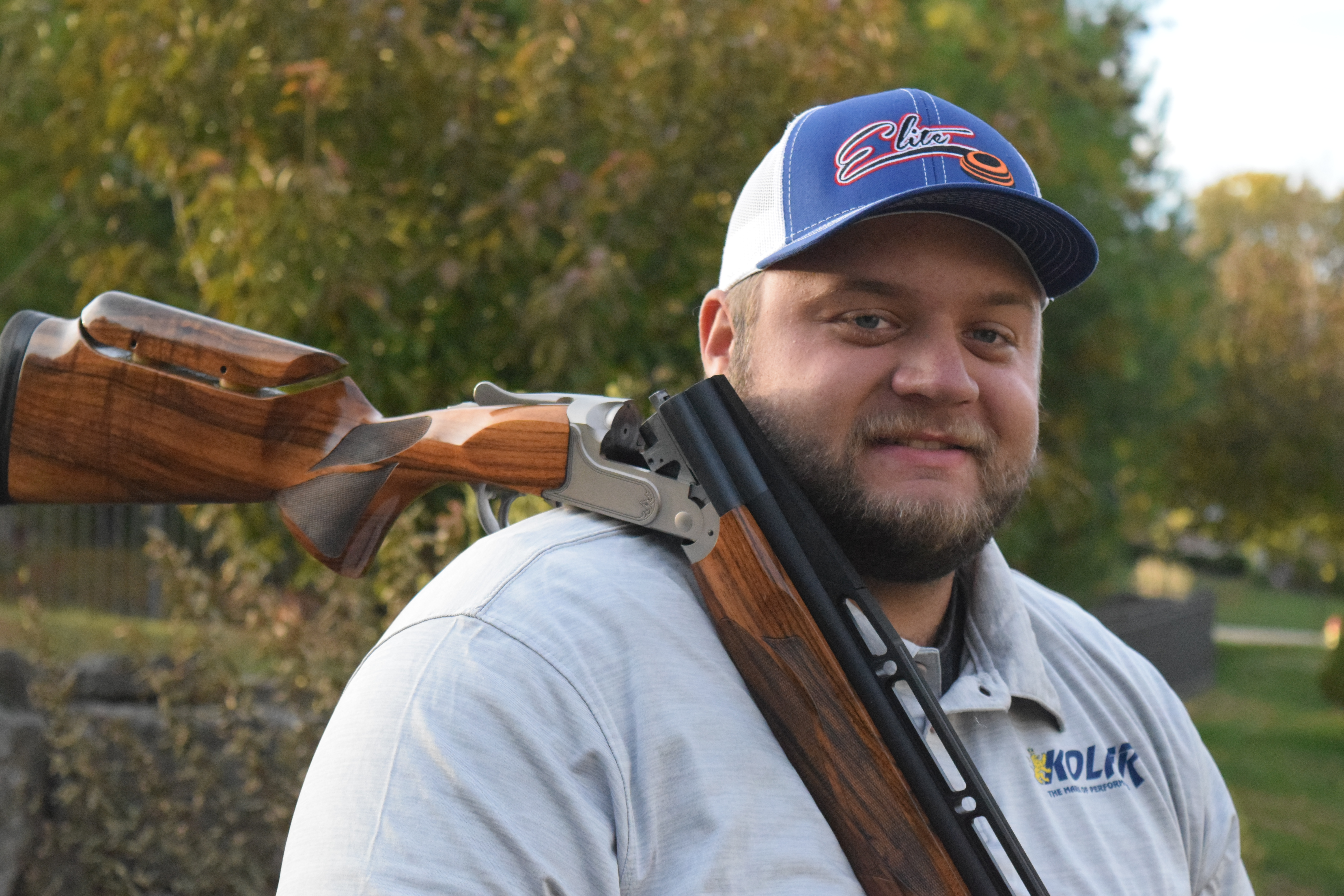 After graduating from St. Pius X in 2019 Ryan continued his education at Lindenwood University where he is on the Shotgun Sports Team. This past November, his hobbies hunting and fishing helped him to achieve earning a spot on the Missouri State Trap Team. He started last May traveling the country competing in numerous state events shooting over 12,000 clay targets through the end of August. He finished on top of the Second Team Junior Gold taking 11th place out of 25 overall. He is on the Amateur Trapshooting Association's 2022 All American Team. During his time at St. Pius his best memories are the days that he had Mr. Taylor's film class right after leaving Mr. Kainz's English class. Ryan enjoyed his time at St. Pius X and is excited to continue competing next year in Trapshooting events.
---
Madalyn Michael '18 and Mallory Stoll '18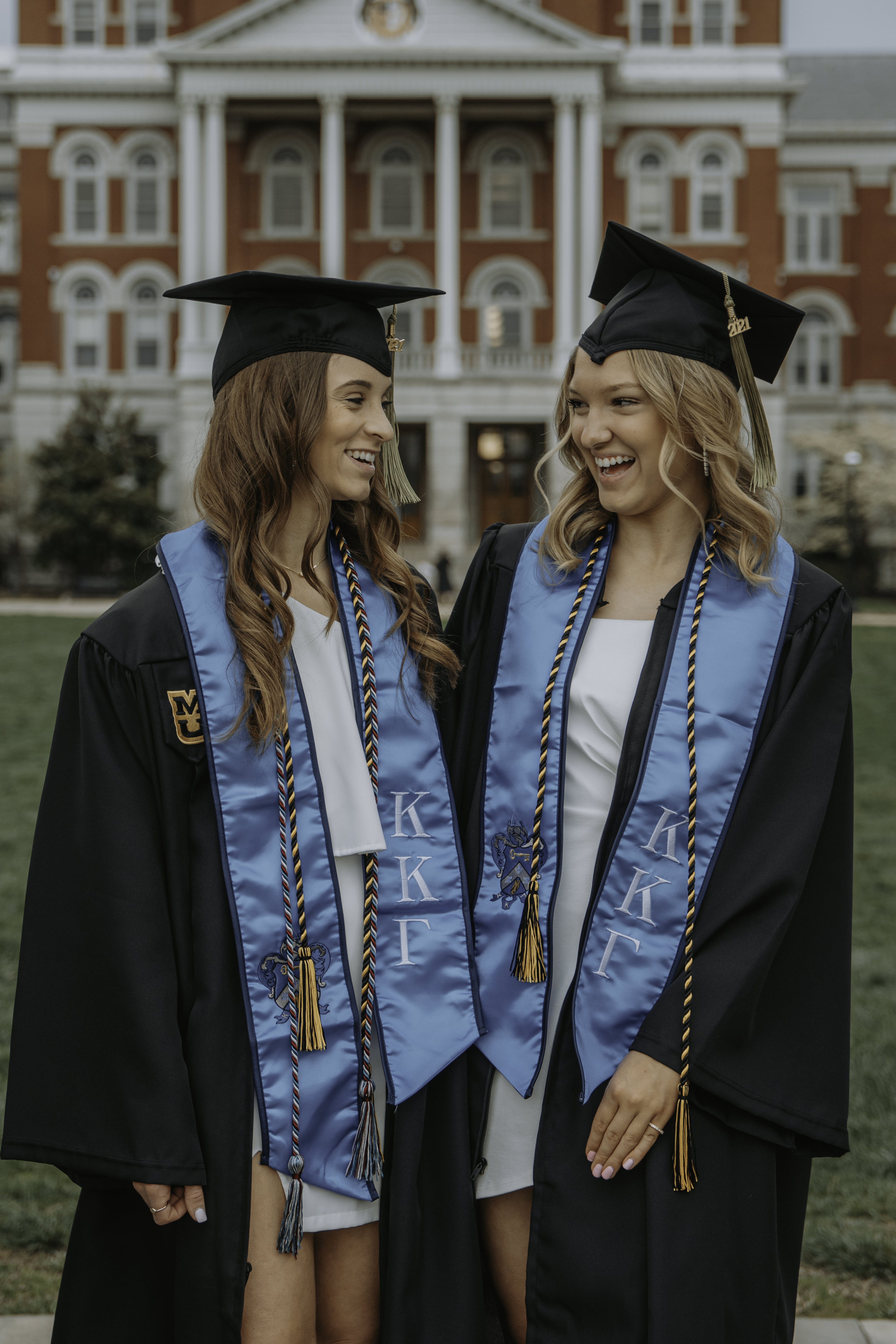 Madalyn Michael and Mallory Stoll met at Saint Joseph Imperial in 2nd grade and became inseparable best friends. They both attended St. Pius X for high school, where they pushed each other academically and their friendship continued to grow. As their friendship grew they shared many memories such as homecoming, prom, and rooting for each other at volleyball games and dance competitions. Throughout their time at St. Pius X, Madalyn and Mallory also both challenged each other by taking honors and college credit courses- ultimately allowing them to graduate in just 3 years. They each graduated from the University of Missouri-Columbia in May 2021 with a Bachelor's degree (Madalyn's degree in Health Science- Speech and Language Studies, Mallory's in Health Science- Pre-Professional). Madalyn is now continuing her education at Mizzou pursuing a Master's degree in Speech Pathology, and Mallory is attending the University of Missouri-Kansas City School of Pharmacy at a satellite location in Columbia. Aside from their studies, they enjoy being roommates at their new apartment, going to their favorite coffee shops to study, grabbing dinner or ice cream, and both working as Graduate and Doctorate Teaching Assistants for professors in the School of Health Professions.
---
Brian Westrich '76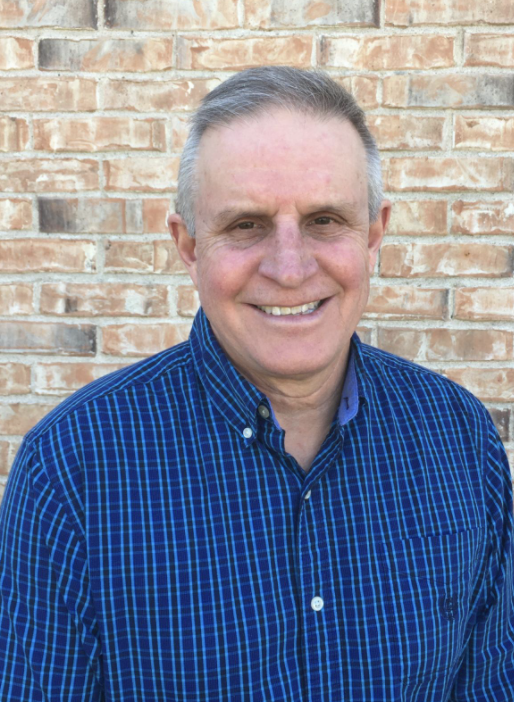 The Alumni Association is excited to introduce the new Vice President of the Alumni Association,Brian Westrich. After graduating from St. Pius in 1976, Brian earned a mining engineering degree from the University of Missouri – Rolla (now Missouri S&T). When the coal industry took a nosedive in the mid-80s, Brian went back to school, and earned a journalism degree from SIU – Edwardsville. He then worked in the corporate communications field and retired in 2019.
Brian, an avid supporter of Catholic education, greatly enjoyed his time at St. Pius and previously served on the St. Pius X School Board. He's a parishioner at St. David's Catholic Church in Arnold, where he lectors and serves on its Parish Transformation Team.
Brian and his wife Mary Ann have two children and one grandchild. Their son graduated from St. Pius X in 2010. Brian and Mary Ann love traveling, most especially to visit their daughter's family in Las Vegas. In his spare time, Brian enjoys fishing for bass or trout whenever and wherever possible.
---
Andrew Held '92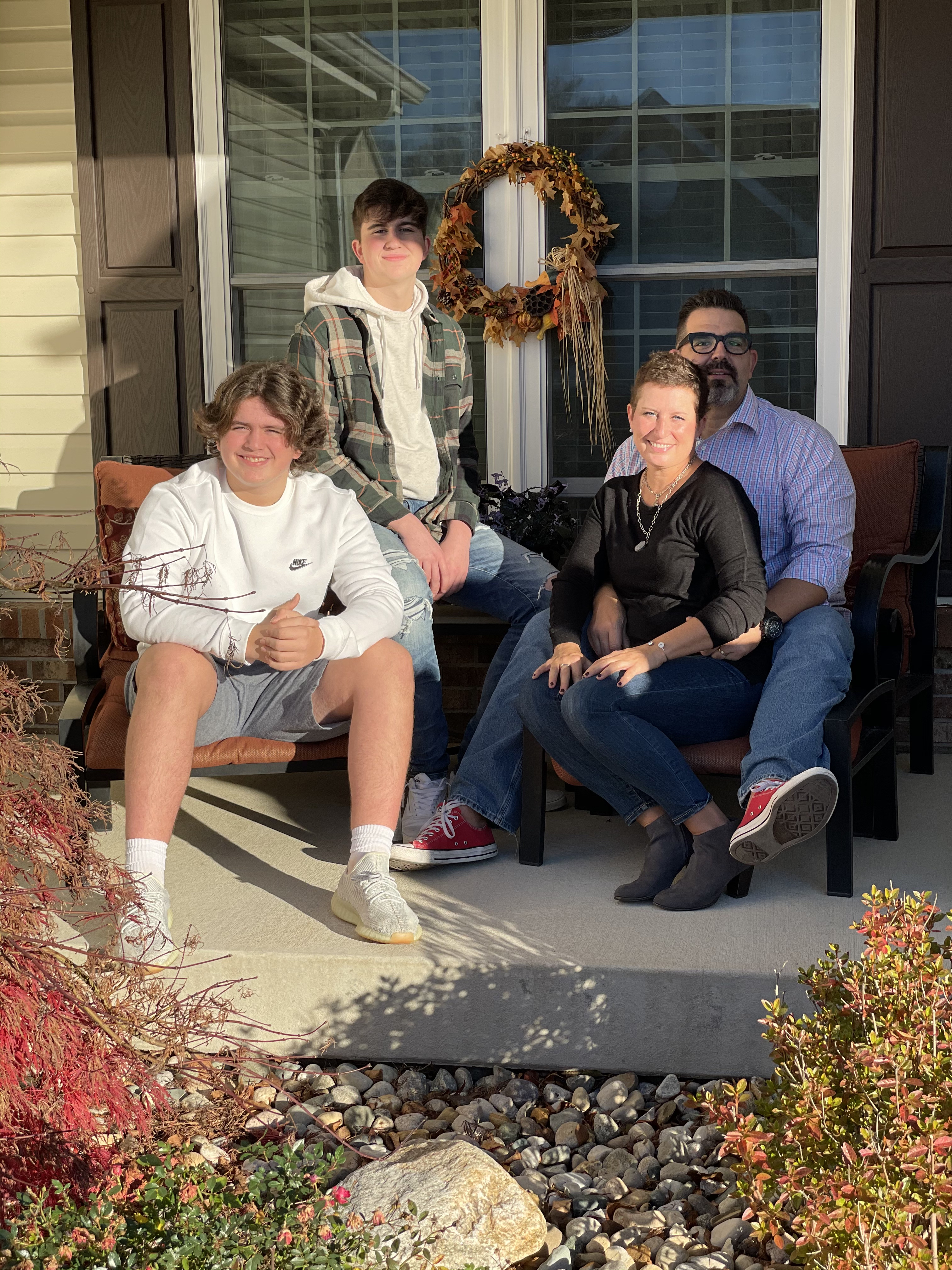 Andy believes he came by it honestly as his father was also very involved in the community. One of his passions is building business and tourism in the Jefferson County community. To serve this passion, Andy is a board member of the Jefferson County Growth Association. He has had the pleasure to be one of the creators of the Bottleneck Bridge Ride which is a large cycling event that brings cyclists into Festus to ride to local wineries and breweries in the county. Annually this event brings over 500 cyclists and their families and friends to experience the beauty and amazing countryside that Jefferson County offers. His family is his priority. He has been married to Jenny for 21 years and they have two boys, Drew and Keaton. Keaton is a freshman and Drew is a senior at StPX. They enjoy regular vacations to Disney World and traveling when they can between baseball games and kids activities.
His interests are personal and professional development, cycling, outdoor activities and jeep rides. In addition to the Jefferson County Growth Association, Andy also serves on the Get Healthy DeSoto Board, Jefferson Franklin Workforce Development Board, and is a member of the Association of Fundraising Professionals.
His experience at SPX helped him in many ways. The faith based education helped build the foundation of his faith and its importance. This was key for his personal and professional development in the business world especially working for a faith based organization, Mercy. He reflects that the climb up a professional ladder comes with many challenges but as you proceed with higher education, special credentials etc. there is a great satisfaction and comfort knowing what you are doing is rooted in faith. Andy admits that he was not by any stretch an ideal student at Pius as he didn't have strong study habits when he started, but by graduation he had acquired study habits and discipline that have been with him since. He owes all of that to the faculty and staff that showed great compassion, interest in helping each student find their path and most of all patience. All those traits and habits that he thought would not be in his personal portfolio he still uses to develop himself personally and professionally.
The most enjoyable part of St. Pius was the inclusion into sports, groups and being part of a family. He has many great friends and relationships that have remained strong since high school.
One of his favorite experiences of SPX was his Junior retreat. "This was a great experience that helped many of us in our class become closer. A unique couple of days to develop relationships and reflection into what we have to be thankful for.
A quote that he wants to share, that he wishes he would have heard in high school, "intentionally put yourself in places that are uncomfortable." Whether it's in public speaking, taking on a task you're unsure of... take the leap, step out of your comfort zone. You will surprise yourself with what you can do."
---
Drew Jordan '01
Webster Graduate Wins Pulitzer Prize for New York Times Coverage of Conflict in Syria
May. 22, 2020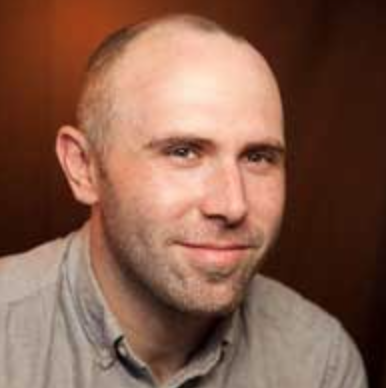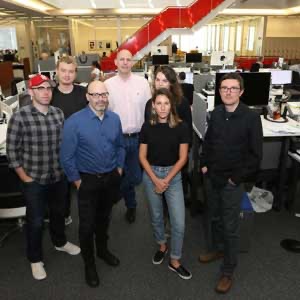 School of Communications alumnus Drew Jordan won a Pulitzer Prize this year as part of the New York Times' Visual Investigations Team
NEW YORK - When started working as a motion designer for the New York Times, he never thought he'd end up winning one of the highest honors in the journalism industry, but he did. After working with a team of journalists on two ground-breaking stories that proved that Russia was engaging in shadow warfare in Syria, he, along with the whole team, was awarded the coveted Pulitzer Prize. His award was announced in May.
Jordan, who graduated from St. Pius X High School in 2001 attended Webster University from 2001 - 2005 majoring in photography. Since graduating he has worn many different career hats before landing at the New York Times doing visual effects. "I started off in commercial photography and photo illustration after leaving Webster, then got into video journalism, design, and animation during grad school," he said.
But through all of his careers, he said that the most important thing to him has always been to keep a focus on helping inform others. "Whether as a journalist, occasional instructor, or creative director, it's always been important to me to educate othersthrough stories," he said. And all the skills he's learned helps him do that at his current job. "To work on a team that investigates and researches cutting edge stories feels like I've taken a career full of acquired tools and finally found one box to put them all in."
Winning the Pulitzerwas very surreal, according to Jordan. "As a motion designer it is very hard to imagine a path that would lead to this," he said. "As a motion designer who is also a journalist, it is certainly a goal or dream but not something that is often connected to video. Our team has been making such strides in this form of open source investigation over the past few years that at a certain point it felt that the potential for this sort of recognition was there, but ultimately no one does the work with awards in mind."
Jordan said that he was with his wife and 7-month-old daughter when he found out that he and his team had won the Pulitzer. "I think we were inside watching a movie on a Sunday. In the middle of a pandemic, in the middle of New York City, with an infant, pretty much everything is hot lava outside of our building. So, to have such mind-blowing news was a welcome ecstatic feeling to share with my family and coworkers," he said. "My wife threw me a surprise Zoom party where a ton of my family and friends were hanging out. So that was unique and special."
His life returned to normal quickly, he said. "As soon as the team got back to work on new stories a few days later it was like, 'ok, well let's get back to it.' I think the adrenaline gets replaced by a deeper pride feeling that you just kind of keep and sit with. Like, 'well, no matter what happens in my career from now on, I have this,'" he said.
"It feels like an amazing self-validation for sticking out the rough times," Jordan continued. "The team, with the groundbreaking reporting that they do, would undoubtedly be making just as stellar work had I never started at the Times. But this certainly reminds me that the level of work I'm contributing to our team is only from years of learning, pushing, and seeing it through."
"As far as next steps, who knows?" Jordan said. "I've always loved telling stories, the creative process, and trying to learn, so I suppose whatever involves those three. I'm just excited to see where all of this takes me next. I'd love to direct a bit more in the future, spend more time with my daughter, and instruct at some point."
Jordan said that there are many things graduating students can do to achieve similar successes in their careers. "Be varied, be interested in anything and everything," he said. "Don't beat yourself up. Ever. As long as you're trying to learn and working on it, there is progress even when you don't see it. Don't think about every project or piece you make as a steppingstone in your career but rather worry about the process and learning as much as you can all the time."
Jordan continued, "Be averse to saying no to projects unless it goes against your core values or morals. You will find jobs or assignments that bring knowledge you didn't know you needed until years later. Some assignments you didn't think you'd ever take on will lead to new interests, clients, hobbies, and friends."
Jordan also shared a couple things that he said he wished he'd been told that he had to figure out on his own. "Treat the path more like a series of plateaus than a constant uphill climb that has a 'peak.' You will learn and grow and then stall, and that's ok, because eventually you'll practice and build your skills until you break through and keep climbing to the next plateau," he said. "And fake it till you make it is a myth. We are all faking it all the time because we are just learning as the assignment or job needs us to. You aren't faking anything by learning on the go."
"Lastly, don't make awards your goals. Make new skills and seeing pieces through from imagination to creation your goals."
The groundbreaking news stories about Russia bombing Syrian hospitals and Russia bombing Syrian civilians that Jordan and his team worked on are available for viewing on YouTube.
(Webster University-Alumni News)
http://news.webster.edu/alumni/2020/pulitzer_prize.html
---
Tom Tanner '70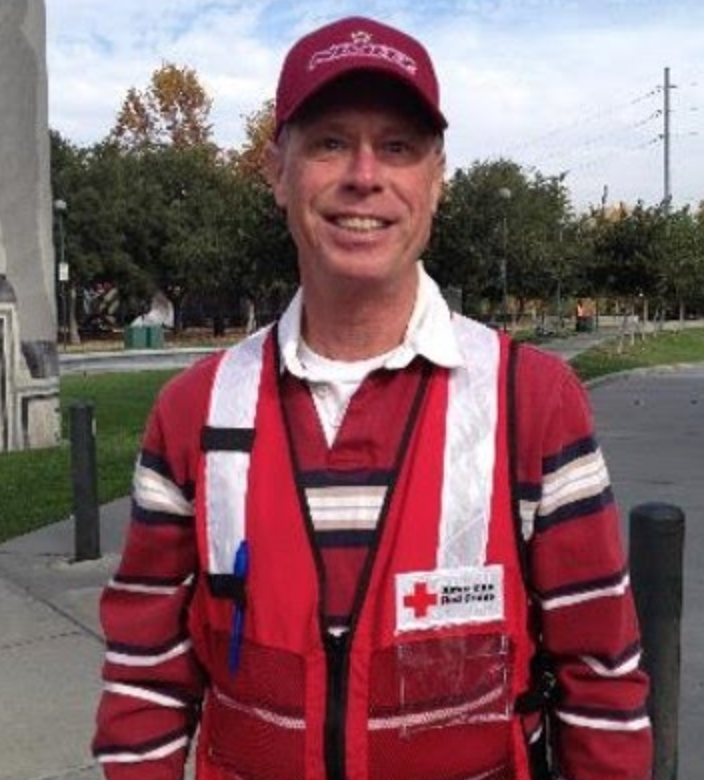 Tom Tanner graduated from St. Pius X High School in May of 1970. He went on to earn his BS in Computer Science from the University of Missouri-Rolla and an MBA from Southern Illinois University. He resides in Santa Clara, California with his wife of 26+ years. He has two accomplished children along with 2 horses, 2 mini-Aussie dogs and 1 cat. Newly retired from the senior project manager for integration of technical service operations for Cisco Systems, Tom fills his time cycling, hiking and volunteering for the Red Cross.
Volunteering with the Red Cross has been a family tradition going back to WWII. Tom is close to donating a total of 6 gallons of Blood to the Red Cross. In addition to donating blood Tom serves as a Red Cross Responder. Tom has supported 14 national disasters. Usually with less than 24 hrs notice, he is off to volunteer for up to 2 weeks with the Red Cross at a disaster like a hurricane, flood, tornadoes or forest fires. This usually counts as his 'vacation' from working at Cisco, the internet company. He's done about 20 deployments since first going to help on Hurricane Katrina relief in New Orleans in 2005. He's been to NYC, Baton Rouge, Birmingham, central Washington state, California wine country, red woods and Silicon Valley, and Missouri (Springfield, St. Louis). Sometimes he has worked in or managed an evacuation shelter. For Hurricane Katrina their shelter housed 1200 people and he served food, cleaned up and was the computer 'geek' helping people enroll with FEMA. For the wildfires near Redding, California in May 2018 he ran the shelter for 50 people in a local high school and 200+ who stayed in their cars/campers in the parking lot. Sometimes he helps coordinate disaster delivery through local/national partners like United Way, Southern Baptists, Catholic Charities, local churches, unions, and groups. He is often deployed in a county or city emergency operation center coordinating disaster response as the Red Cross liaison to that local government. For the floods in Missouri in May 2017, first he was in Springfield assisting local groups then drove to St Louis to supervise the team working with partner groups there.
He was also on the County of Santa Clara Planning Commission as a Planning Commissioner (including Chair) for 8 years. He enjoyed making land use decisions, standards, policy and assisting in shaping how the county was developed. He helped to preserve open space and limit sprall.
Tom enjoyed his friendships from St. Pius X High School that has lasted over 50 years. His favorite teachers were Mrs. Grace Day (chemistry) and Mr. Voss (Latin). He appreciates the great scholastic preparation and rigor that prepared him well for college. The religious training also gave him a solid base for his life to build from.
If you have a story you'd like to share, fill out this Featured Alumni Form