Featured Alumni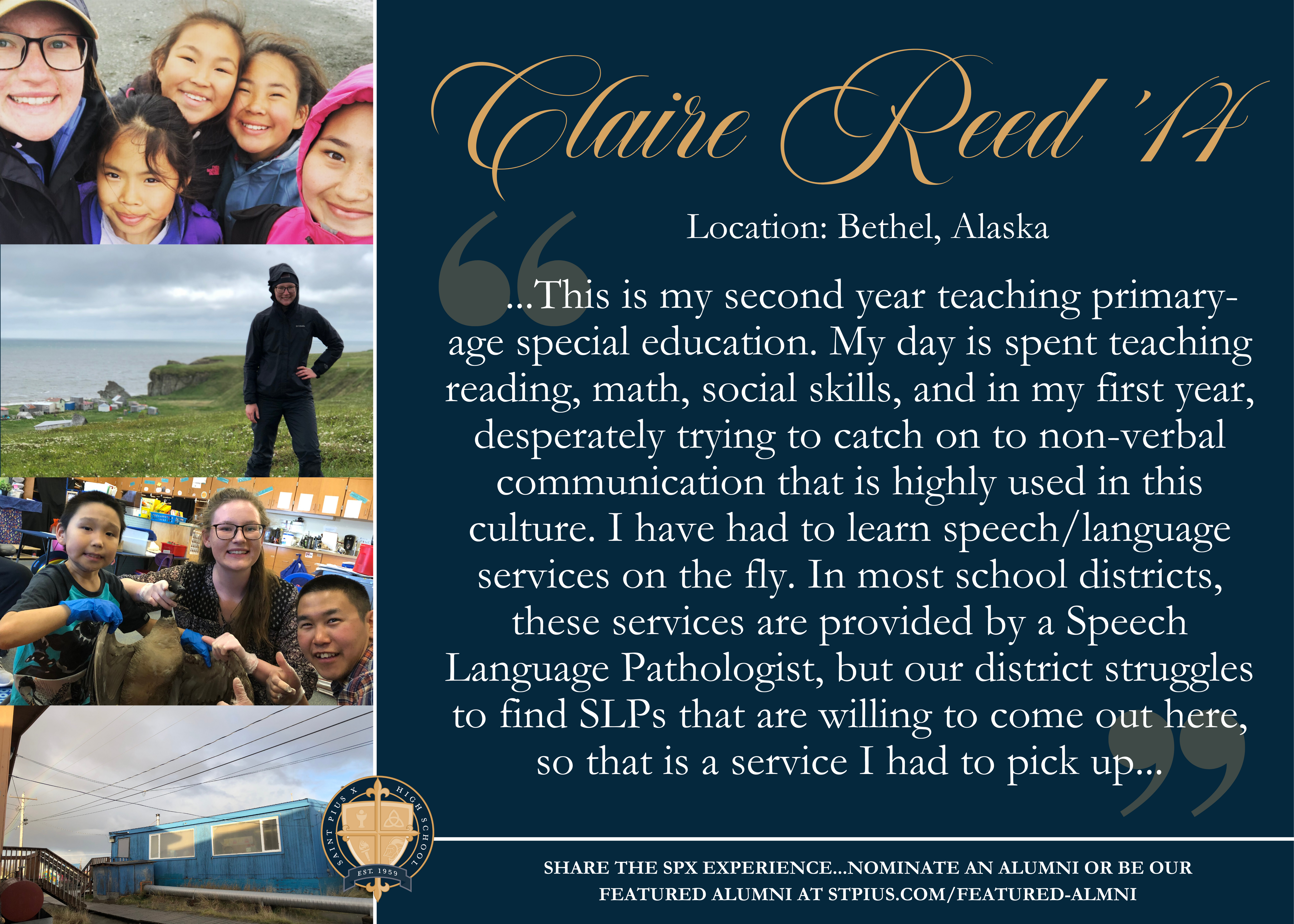 "My high school experience surrounded me with teachers, coaches, and friends who believed in me. Having those kinds of people around me has allowed me to say "yes" to going beyond what I expected from myself and opened my world to something quite different than I ever planned."
Claire pursued a Bachelor of Arts degree in Elementary and Special Education at Benedictine College. Upon graduation, she accepted a job as a special education teacher in the Lower Kuskokwim School District in Bethel, Alaska, where she has been for the last two years. Bethel is the hub community for the Yukon-Kuskokwim Delta in southwest Alaska. This growing community has a larger population than Claire's hometown, DeSoto, MO. For the 30+ village communities on the delta, Bethel is the only source for healthcare and travel beyond the region. The majority of the population is made up of indigenous Yupik people. Despite the transient nature of many in Bethel, subsistence lifestyle characteristics of the Yupik culture are still present and important to the livelihood of most-- hunting, fishing, gathering berries, etc.
The native Yupik language is hurting. "Many surrounding villages are better able to preserve the language as they don't have quite as much Western influence as Bethel does," Claire said. Alongside the many subjects Claire teaches, she has also had to pick up speech/language and provide aid where needed. Many students in the region have severe articulation errors as well as language delays due in part to the quiet nature of the culture.
Claire spent most of the first year teaching reading, math, social skills, and learning non-verbal communication that is highly used in the Yupik culture. In most school districts, they struggle to find Speech Language Pathologists that are willing to move to Bethel. Teacher retention is a serious issue in a lot of places across the country, but in Bethel it is magnified.
For a multitude of reasons, teachers don't have a tendency to stay in rural Alaska very long, which has deeply affected the students outlook on education. In her first few months, Claire had to prove to the families of her students and coworkers that she was there to stay. She made it known that her heart was in it and that she "didn't take this job to try to come in and "save" them or to have an Instagram-worthy adventure."
Claire described why she chose to live and work in Bethel:
"It goes deeper than those things or the issue of teacher retention will only continue to climb. It is not easy to be far from family and friends back in the Lower 48, but my students and the opportunity to learn from a community whose culture is vastly different than my own is worth the distance for now."
---
Share the SPX Experience...Nominate an Alumni or be our Featured Alumni
Alumni stories — they're countless…fascinating, inspiring, moving. All different…but each revealing a glimpse of our common experience at St. Pius X High School. True to the rich tradition of Catholic education, St. Pius X provides a spiritual framework focused on faith, values, and service.
Extraordinary. Inspiring. Diverse. Our alumni have some of the most fascinating stories to tell and we are always honored to share their accomplishments and achievements. Here we will feature a collection of their inspiring stories and reflections. Check back occasionally to see updated and new featured stories on our alumni and the impact SPX has had on their lives and the communities we serve.
If you have a story you'd like to share, fill out this Featured Alumni Form