Fine Arts Festival and Senior Exhibition "Where Have You Been?"
The evening will feature visual works, instrumental and choral performances by students of St. Pius X High School on May 3, 6-9 pm. Guests will have the opportunity to walk through the cafeteria and second-floor foyer to enjoy student artwork. The Fine Arts Festival will come to a close with musical performances by students in concert and Jazz band and the choir.
Our Fine Arts Festival will include a showcase of the Senior Art, an exhibit of undergrad artwork, an awards ceremony for the Seniors, a live performance of "Why Can't We Be Friends" by Kyla Greenlee, the Spring Concert Band, the Jazz Band, the Choir, and recognize the Circle Theater's State's One Acts qualifications.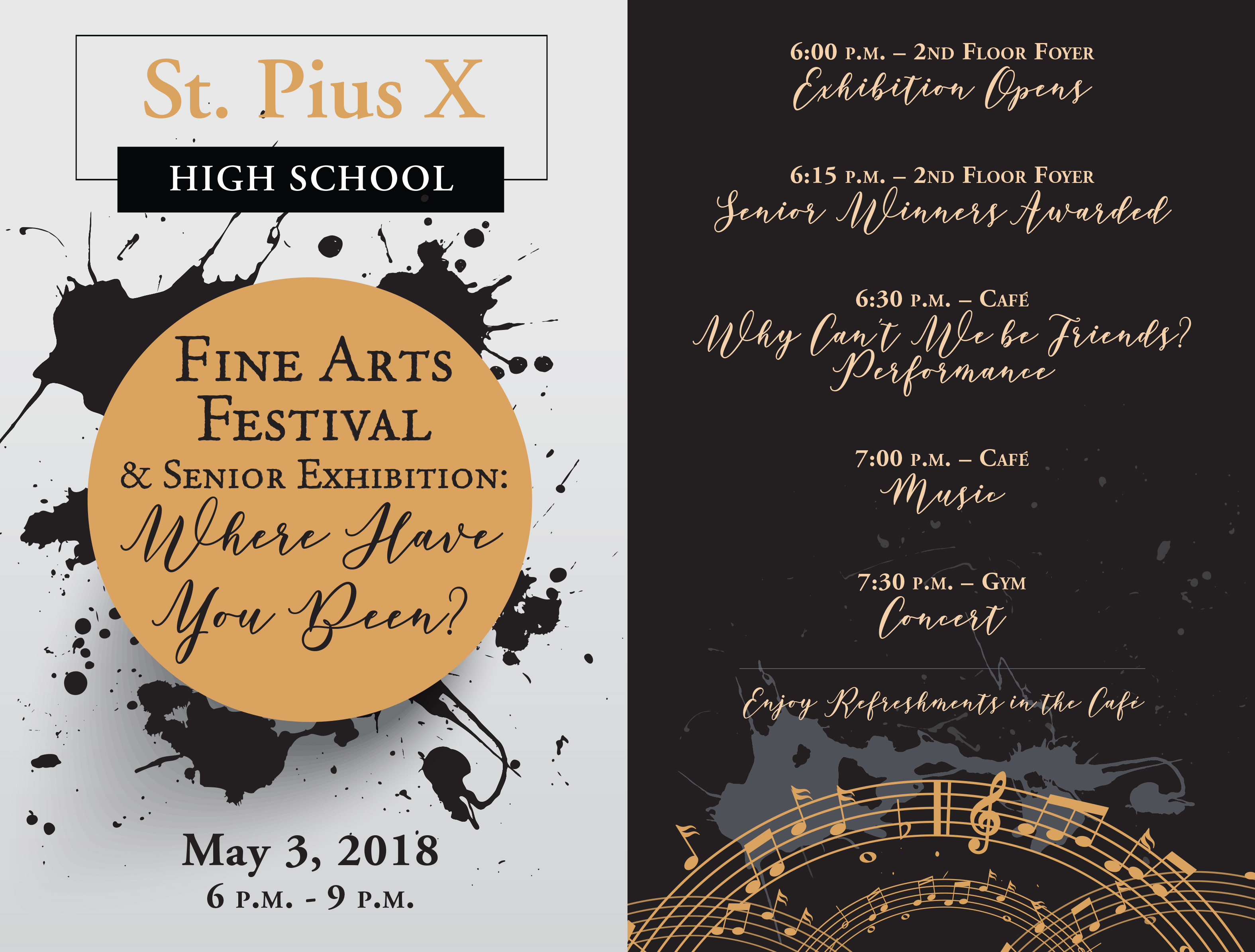 The art classes will display their outstanding projects of their artwork that they have completed through the year. Projects are evaluated for their artistic quality and awards are given to the seniors for exemplary work in different categories. This festival allows visitors a wonderful opportunity to view individual's works and see the progression of artistic ability from the St. Pius X students. In conjunction with the Art Exhibition, instruments and voices come together as the Concert and the Jazz Band and Choir perform.
The St. Pius X High School Fine Arts programs seek to immerse students in both the technical as well as creative dimensions of multiple artistic media. Our goal is to have students develop skills as well as creative insight and critical abilities and an emerging personal and social artistic vision. Our students have a multitude of opportunities to share their talents through performing arts events, such as the fall play, spring musical, winter concert, Jazz Band, choir, and spring festival performances.
Our fine arts faculty members have a wide array of professional experience in theater, music performance and production, and art media. They bring their expertise to the students in the classroom, helping foster a passion for the arts in our students. Many of our alumni have had successful careers in the arts as fine artists, singers, educators and professionals in their field.