6/18/19
The Flood - Spring 2019
---
5/20/19
St. Pius X Announces Coaching Staff Additions

Oliver, Miller join staff as coaches for football, basketball and baseball; Portell adds mboy's soccer to coaching responsibilities

Festus, MO—St. Pius X High School has announced changes for the coaching staff for the 2019-20 school year.

Dan Oliver will be the new head coach for Lancer football and baseball. Oliver has served most recently as the Athletic Director at Affton High School from 2006 to 2019. He was the head football coach at Affton for 21seasons, from 1997 to 2019. From 2000-2006 he also served as the head baseball coach for the Cougars. In addition to coaching responsibilities, Oliver will also be a Wellness teacher at St. Pius X.

Oliver takes over both programs following the coaching retirement of Jerry Woods, who helmed SPX football for 13 years and the baseball team for 12 seasons. Woods plans to remain at St. Pius X as a faculty member.

Chris Miller will be the new head coach for Lancer boys basketball. Miller was the boys coach at Grandview from 2013-2018 and has been the head coach at Couch HS, Bell City HS, Southern Reynolds HS and Zalma HS (all in Missouri). Miller is a tenured faculty member at Grandview HS and will teach social studies there in 2019-20.

Miller replaces Eric Lawrence, who has resigned from his teaching and coaching positions at St. Pius X after being selected to be the new Athletic Director at Bayless High School.

Aaron Portell, a Lancer alumni and currently the SPX head coach for girls basketball and girls soccer, is moving from assistant boys soccer coach to head coach for the program. He takes over for Steve Smith, who will remain on the St. Pius X staff as a faculty member and girls soccer assistant coach.

"We are excited to add coaches of this caliber to our staff," St. Pius X Athletic Director Tilden Watson said. "Coach Oliver and Coach Miller both stood out during the interview process as men of high character, vision and energy, and we are confident they will build on the success those programs have seen in recent years. Coach Portell, in addition to being a talented educator, has a track record of success with his programs, and I am looking forward to seeing what he can do with the boy's soccer team."

Meet Coach Oliver and Coach Miller: On Thursday, May 23, from 5-6:30 pm on the Lancer Landing next to the football stadium, St. Pius X is hosting a meet and greet and press availability with Coach Oliver and Coach Miller. SPX players and parents, faculty and staff and area media are welcome to attend.

Media inquiries—please contact AD Tilden Watson at twatson@stpius.com or 636-931-7487 ext. 103
---
3/25/19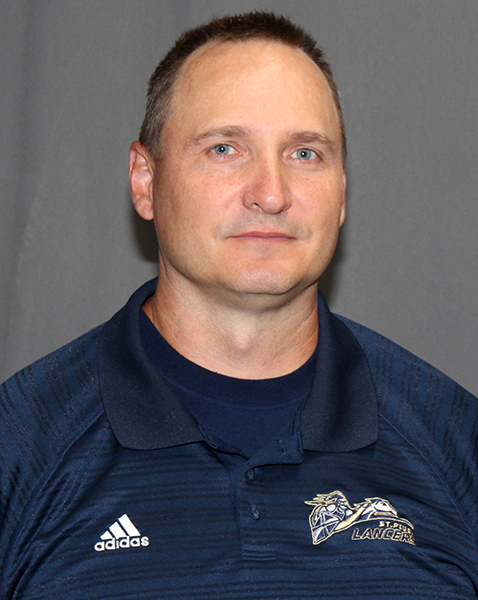 WOODS RETIRING FROM COACHING ST. PIUS X FOOTBALL
Dean of I-55 Conference Football Coaches Calls it a Career After 13 Years
Festus, MO—St. Pius X High School announced today that Jerry Woods has resigned as head coach of the Lancer football program after 13 years at the helm. Currently the longest tenured coach in the I-55 Conference, Woods and the Lancers are coming off their best season in recent history. In 2018, St. Pius X went 8-3 and won a thrilling district playoff-opening game over Kelly 18-14 before ending their season at Charleston in the second round. Woods, who will remain at St. Pius X as a faculty member and also as head coach of the baseball team, spent 18 years on the Lancer gridiron staff, the first five as an assistant to Rick Overberg.
Athletic Director Tilden Watson said the search for a new head football coach will begin immediately.
Media inquiries—please contact AD Tilden Watson at twatson@stpius.com or (636) 931-7487 ext. 103.
---
1/22/19
Missouri State High School Activities Association Scholastic Achievement
St. Pius X High School is proud to announce the following MSHSAA programs at SPX have earned MSHSAA Scholastic Achievement Award recognition for academic excellence during the fall semester of 2018.
All 10 fall sports teams earned Scholastic Achievement status (GPA's are based off the Fall 2018 semester grades):
Outstanding Scholastic Achievement (3.5+ GPA)
Varsity Boys Soccer 3.600
JV Boys Soccer 3.528
Varsity Volleyball 3.679
JV Volleyball 3.657
Varsity Girls Tennis 3.647
JV Girls Tennis 3.625
Varsity Girls Cross Country 3.857
Varsity Softball 3.668
Distinguished Scholastic Achievement (3.00-3.49 GPA)
Varsity Football 3.326
Varsity Boys Cross Country 3.313
---
12/7/18
St. Pius X High School Students Win Annual Catholic Appeal Essay Scholarship Contest
Each year, the Annual Catholic Appeal (ACA) brings Catholics throughout the Archdiocese of St. Louis together to answer the Gospel call of Christ to serve others. In an effort to share the good news about the Appeal's impact in our community and to promote the involvement of our young people in the life of the local Church, Archbishop Robert J. Carlson and the Annual Catholic Appeal Council invite any junior who attends a Catholic High School in the Archdiocese of St. Louis to participate in the 2018-2019 ACA Essay Scholarship Contest.
Congratulations to Gabriel Verzola, Margaret Key, and Gabrielle Werner, St. Pius X High School students who were named scholarship winners in the Annual Catholic Appeal essay contest. A special reception with Archbishop Robert Carlson was held on Wednesday, December 5 to honor the recipients.
Pictured here are Ms. Tori Aubuchon, Theology Faculty, Gabriel Verzola, Margaret Key, Fr. Voltriede, Chaplain (not pictured Gabrielle Werner,).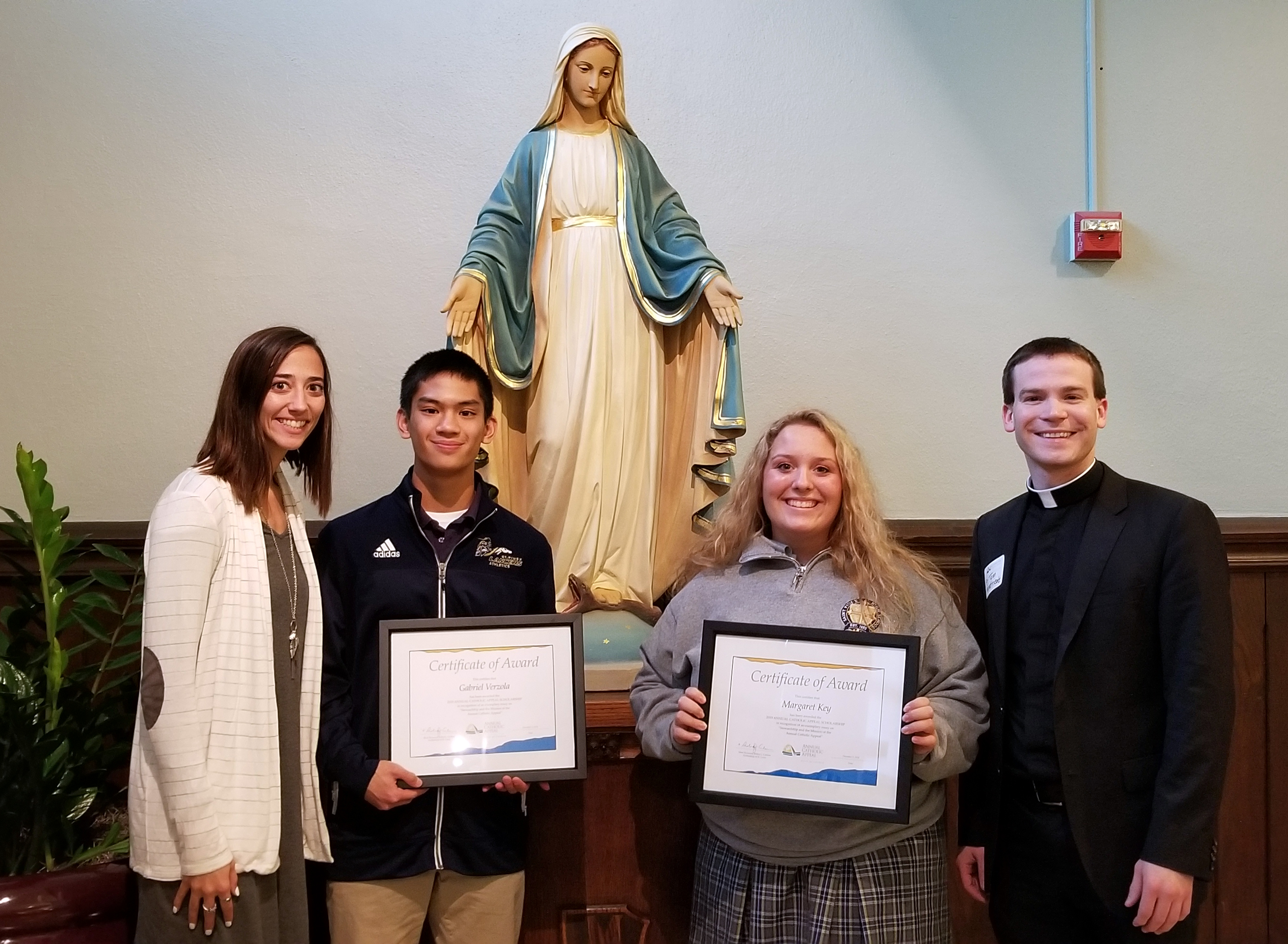 ---
12/3/18
St. Pius X High School Wins $8,000 in Fitness Equipment from Show Me Weights
Show Me Weights, based in Fenton, MO., held a contest for Missouri and Illinois high schools to win $8,000 worth of all-new, state-of-the-art fitness equipment for their weight rooms. St. Pius X High School students Hannah Schappe and Eleanor Fehlker Campbell created and submitted a video showcasing why St. Pius X deserves to win.

Video submissions were judged on their creativity, style, originality, and school pride, along with the greatest number of votes received from a social media campaign. In a Facebook Live video from Show Me Weights on Monday, December 3 St. Pius X High School was announced as the first-place winner.

Equipment and funding for the contest are being donated in part by sponsors, including Show Me Weights, Apollo Athletics, Atlantis Strength, Iron Bull, and Fit City.
"We average anywhere from 50 to 60 students that take advantage of the weight room after school." St. Pius X Athletic Director Tilden Watson said. "The added equipment from Show Me Weights will help streamline and make the workouts more efficient. It will also help our Health and Wellness classes become more efficient."
"The timing of this award is perfect," St. Pius X president Jim Lehn said. "About two weeks ago we were awarded a grant from the Jefferson Foundation to help us build a new Wellness Center. This new equipment will fit nicely in the new center and will be put to good use."
"Show Me Weights has been fortunate over the last few years to provide a variety of equipment to numerous high schools throughout the Midwest," said Kyle Lang from Show Me Weights. "During that time of meeting with school officials, we also came across a large number of schools that didn't have the budget to improve their weight room. Some of these weight rooms were not just outdated, but unsafe for students to use. After discussing this we decided that we would like to give back to schools around our area. The competition we came up with required schools to submit a video on school spirit and why they needed a weight room upgrade. We based the winner off of the number of votes the received online as well as the voting from a panel of our sponsors."

The six competing schools won the following:
1) St. Pius X High School (Grand Prize - over $8000 in Equipment)
2) Oakville High School ($500 Prize)
3) Salisbury High School ($300 Prize)
4) Gateway STEM High School (20KG Olympic Bar Valued $250)
5) Streator High School (20KG Olympic Bar Valued $250)
6) Troy Buchanan High School (20KG Olympic Bar Valued $250)
---
11/13/18
Dear St. Pius X Community,
I am delighted to share some great news!
St. Pius X High School has been awarded a grant by the Jefferson Foundation. Their primary mission is to provide support for charitable and educational activities that promote individual and community health and well-being in Jefferson County.
This grant of $198,898 is to be used for a new Wellness Center at our school. This new building will be in the grassy area between the boy's locker room and Fr. Dalton Memorial Stadium. Planning is well underway and, weather permitting, we look forward to an early spring 2019 groundbreaking ceremony.
Please stay tuned to our social media channels for future updates.
Jim Lehn
President