Fr. Donald Dalton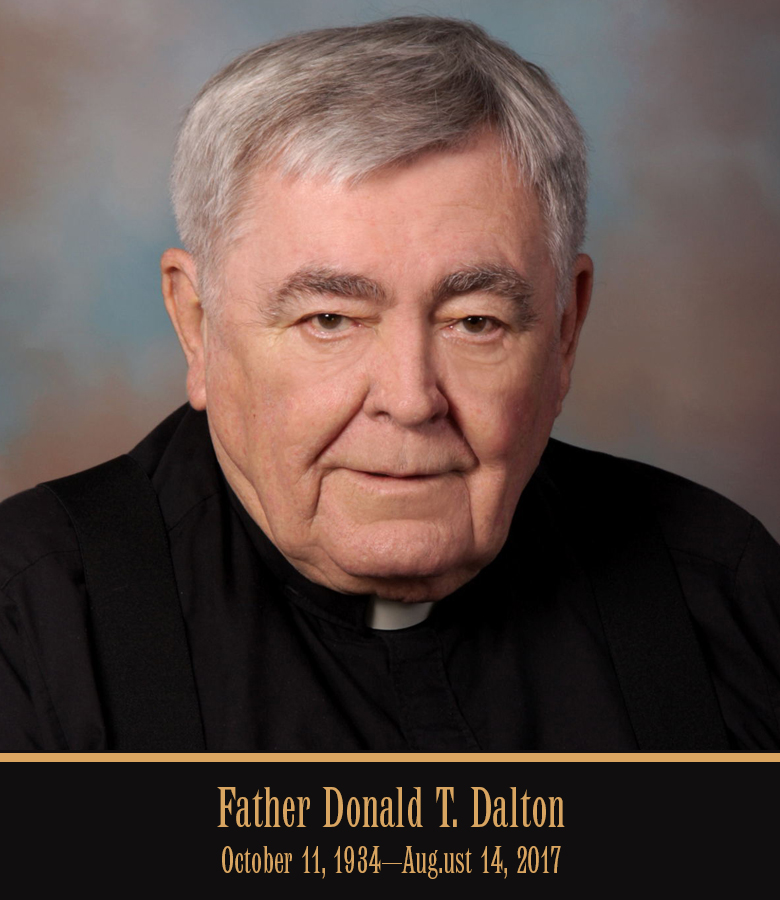 Father Donald T. Dalton, 82, died Aug. 14, 2017, at Crystal Oaks Assisted Living Center in Crystal City. Father Dalton was born Oct. 11, 1934, in St. Louis, the son of the late Rose Elizabeth (Laker) and Eugene Thomas Dalton. He was ordained as a Catholic priest on April 2, 1960, and immediately started work at the 1-year-old St. Pius X High School, while also serving as associate pastor at Our Lady Catholic Church in Festus and Sacred Heart in Crystal City. In 1969 Fr. Dalton succeeded Fr. Deutschmann to become the second president of St. Pius X, a position he held for the next 25 years. While president at St. Pius X, Fr. Dalton was also chaplain to the Ursuline Sisters at their novitiate in Crystal City.
Overall, Fr. Dalton was part of the St. Pius X community for 56 years, serving in virtually every capacity possible – president, principal, chaplain, teacher, advisor, coach, nurse, driver, groundskeeper, business manager, admissions director, chief fund-raiser, cheerleader, lunch money collector, founding father of the Lancer Endowment At Pius (LEAP), and more. After turning over the presidency to Fr. Robert Suit in 1994, Fr. Dalton continued to serve St. Pius X as an advisor and staff member, and in 2009 was named President-Emeritus by Archbishop Robert Carlson on the occasion of St. Pius X's 50th anniversary. He continued to be a regular presence on campus through the 2016-2017 school year, chatting with students while helping out in the cafeteria, as well as talking with teachers, many of whom he had hired while president.
He is survived by a sister: Patricia A. (the late John) Haselhorst of Festus; a brother: Eugene A. (the late Virginia) Dalton of Shrewsbury; numerous nieces and nephews: Glenn J. (Angela) Dalton Jr. of Ste. Genevieve, David Allen (Stephanie) Dalton of Ballwin, Linda Christine Dalton of Affton, Keith (Kathy) Haselhorst of St. Charles, Karen (Dave) Meyers of Kansas City and Kathleen Haselhorst of Festus; many great-nieces and nephews; and numerous former students and friends.
He was preceded in death by a brother: Glennon J. Dalton; a sister: Bernadine Harshany; and a nephew: Kevin Haselhorst.
Visitation is scheduled from 3-9 p.m. Friday, Aug. 25, at Our Lady Catholic Church, 1550 St. Marys Lane, in Festus. Visitation is at 9 a.m. and a funeral Mass will be held at 10:30 a.m. Saturday, Aug. 26, at the church, officiated by Father Jeffrey Maassen. Burial is in the Sacred Heart Cemetery in Crystal City. Arrangements are under the direction of Vinyard Funeral Home in Festus.
(information from the Aug. 17 edition of The Leader and other sources)
A personal reflection: Mr. Scott Taylor and Mr. Marty Zielonko
Back in the late 70's and early 80's a bunch of young, mostly guy, teachers at St. Pius formed a special relationship with Fr. Dalton. He most likely prized it because he was able the let his guard down and just be himself. The public Fr. Dalton could be awesome. His homilies, especially at funerals, were incredible. But it was that private Fr. Dalton that we were closest to and will always remember. Back in the day, when we had a free period, we made a beeline to his office and would sit and shoot the breeze and laugh. He had high expectations for all of us and we all wanted to make him proud, and sometimes we messed up and boy did he let us know it. He shaped us into better men, without a doubt. He was the beginning of "The St. Pius Way." We carry that every day and try to pass it on to the younger teachers who are here now. We will always think about him, and will always miss him, but, also, he will always be an important part of us and St. Pius X.