Welcome to Friday's Faculty Focus!

We are introducing a new campaign that highlights the powerhouse of St. Pius X High School: our incredible Faculty! These men and women work hard everyday to make sure our students are well-served – through the student experience to graduation and beyond. Faculty Focus is their time to shine! Every Friday, we will be highlighting a Faculty member and their subject area.
On Fridays we will feature one of our faculty members, who will share their experiences, philosophies, and memories. Be sure to check back weekly to view each week's highlighted Faculty member's Q&As, photos and/or videos.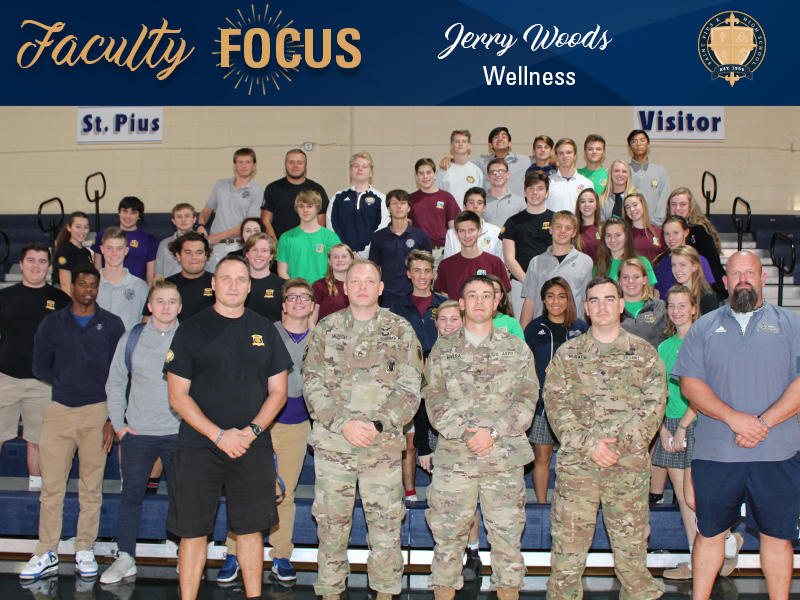 Jerry Woods, Wellness
St. Pius X alum?
No, however all three of my sons graduated from St. Pius X: Jerry 2007, Jake 2012, & Josh 2014.
Years teaching/Years teaching at St. Pius X: 17
Department: Wellness
Coaching or club sponsorship roles: Football, Baseball, Weight-Lifting, Martial Arts
Degree(s)/Degree-granting institution: M.S. Austin Peay State University, B.S. Austin Peay State University
Academic area: Health Management
---
What did you want to be when you were growing up? Pilot
If you could have any superpower what would it be? To be able to fly
Tell us about your proudest moment at Pius X.
When students rally to support each other during challenging workouts in class
What are you currently reading for enjoyment?
If I'd Known Then What I Know Now by J.R. Parrish
To what teams and/or clubs did you belong as a student?
FBLA - NHS - Football - Wrestling - Baseball
What personal strengths do you find especially helpful in your teaching? Passion - Organization - Humor